Ms Shape Counter-Covid Masks Incorporating Heiq Viroblock Technology
Ms Shape Counter-Covid Masks Incorporating Heiq Viroblock Technology
HeiQ Viroblock NPJ03 is an intelligent Swiss textile technology that is added to our masks during the final stage of the manufacturing process.
EFFECTIVE IN MINUTES
Strong antiviral and antibacterial effect against enveloped viruses and bacteria
HeiQ Viroblock NPJ03 has proven effective against human coronavirus (229E) in face mask testing
Suitable for all fiber types, from medical nonwovens (e.g. face masks) to fabrics for clothing and home textiles
For washable face masks: Lasts at least 30 gentle washes at 40°C (104°F)
Residual virus infectivity tested according to a modified ISO 20743 method (Sendai), rapid antiviral effect demonstrated within 2-5 minutes
Hypoallergenic, provides self-sanitizing and germ resistant surface
Patent pending antiviral and antibacterial technology
ANTIVIRAL FACE MASK TESTING DATA
Aerosol challenge test ASTM F2101(1): Face masks (N95/FFP2/KN95 type) treated with HeiQ Viroblock NPJ03 (Viroblock) have been tested according to GLP standards relative to the untreated control masks.(2)
Treated face masks show significantly improved reduction in virus infectivity compared to untreated control masks.(3)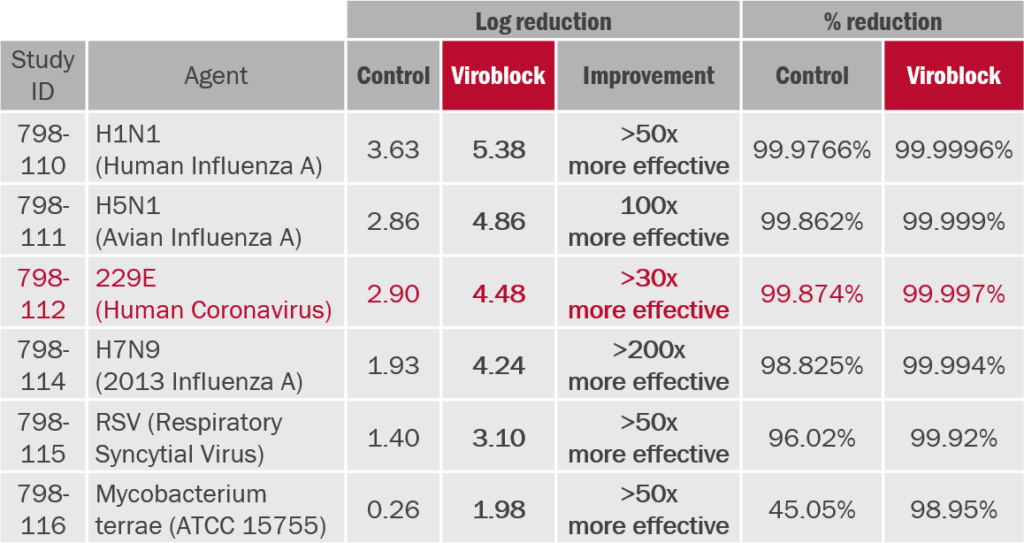 .
Antiviral efficacy test (ISO 18184): Nonwoven material for disposable face masks treated with HeiQ Viroblock NPJ03 has been tested according to ISO 18184 standard.
.